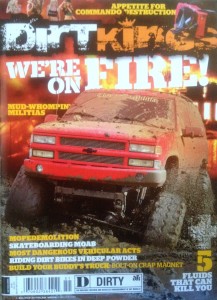 Article- While most militias are put on watch lists and are under close scrutiny of the government, there are a few dirt and mud militias out there that we like to keep our eye on. While they may not be a danger to anyone, they are murder on mud.
We spent some time getting dirty with the Chevy Militia- Bow Tie guys to be sure, but ones who aren't afraid to let a Ford or two play in the pack.
Most of the crew hanging around that day were running first generation GM IFS trucks with solid axle conversion, but there were a few old boxy Chevys out there, too. We found Chevys from every era on their website www.chevymilitia.com A lot of the Chevy Militia guys seem to go with the 88-98 GMC/Chevrolets because they're so cheap and make great solid axle swap recipients. And the fact that there is really nothing else in the aftermarket to make these front ends stronger sorta necessitates a solid axle swap to make the 88-98 trucks go in the hardcore terrain.
And go they did… straight into some of the nastiest mud we've seen in a long time. It stuck to everything, wouldn't come off, and left almost every truck stranded in the goop. Perfect
It's been too long since we'd spent a weekend with friends getting a little wild and playing in the dirt, and the Chevy Militia crew definitely had the cure for it!